traditional european christmas cakes and cookies baked with our family's time honoured recipes
Christmas Bakery

December 21st, 2023 will be the last day of this year's season that we are shipping out Christmas goodies.
It's that time of year again when our bakery is filled with heavenly scents of traditional German and European Christmas baking.
The aroma of fresh baked Christstollen is drifting out of the oven and pairing with that of rum soaked fruits and raisins and roasted almonds. Vanilla Crescents, just like Oma used to make them, are cooling off on baking trays while the triangular Spitzkuchen gingerbreads are being covered with fine Belgium chocolate.
You can find all these old world, seasonal goodies and more at our bakery in Peterborough, at Markham Home for the Holidays Nov. 17-19, 2023, at the Kitchener Christkindl Market (Dec. 7-10, 2023) or by ordering online.
Furthermore our Stollen and fruit cakes are being sold at an ever increasing number of selected grocery, fine food and health food stores. Click Here for stores.
Online Christmas Shop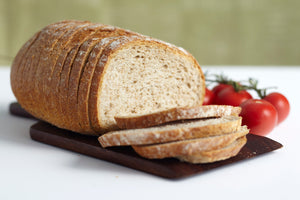 Our Bakery
We Are Open & Baking
Our family will keep providing you with nutritious food just like we have done for more than 80 years, no matter the times and its challenges. And we are happy that our retail partners are just as committed to continue to carry our products.
Store Hours
Thur. & Fri. 9am - 4pm
Peterborough Farmer's Market Morrow Building: Sat. 7a.m. – 1p.m.
Shop Here for Curbside Pickup
Retail Partners
Numerous retail partners throughout Canada are selling our Gluten Free Products like Croutons, Bread Crumbs, Rice Pizza Crusts and Pies. During the Christmas season many of them also carry our Christmas Cakes. The list of stores is a work in process, if you can't find a store near you by Clicking Here for Gluten Free or Clicking Here for Christmas Cakes, please email us.
24/7 Shopping
We ship a variety of our products province and nationwide.
All our fresh sourdough breads, bagels, spelt muffins etc. ship throughout Ontario and Quebec. Unfortunately we cannot ship these outside of the above two provinces due to length of transportation.
All our dry and long shelf life products, like gluten free croutons & crumbs, and our Christmas baking ship nationwide.
All orders of $150 and more ship for free.
Shop Here all season
Family Owned & Operated Since 1939
For 80 years Stickling's Bakery has been known for its rustic, organic sourdough breads which are baked according to traditional family recipes and with sourdough cultures that have been passed down from one generation to the next.
By using the same time tested recipes, craftsmanship and finest, natural ingredients, we, the third generation, are following the foot steps of our ancestors and continue the tradition of  baking delicious, wholesome goodness.
We are happy to be able to bring some of our tasty goodies directly to your doorstep through our online shop or through one of our many retail partners.
Read The Full Sticklings Story
Most Popular Bakery Products
---
Great tasting artisan baking for generations.
We love to bake, and the proof begins with our ingredients.
At Stickling's we take great pride in the quality ingredients we use in our products.
Whether it is organic ingredients such as raisins, flours, pumpkin seeds and cane sugar or premium ingredients, like genuine rum and creamery butter in our gourmet cakes, we never take short cuts when creating delicious, authentic Stickling's baked goods.

Our Retail Bakery
11-637 The Queensway,
Peterborough, Ontario, K9J 7J6   
Bakery
Thu. - Fri., 9am - 4pm
Peterborough Regional Farmer's Market
Saturday, 8am - 1pm


Authentic Baked Goods
Tastes like home.